---
NEW PARTNERSHIP OF PRACTITIONERS OFFERS PRE AND POST NATAL CARE FOR PARK CITY MOMS
Some of you will remember Park City in the 80s (that's when Tom and I arrived) and what a small town it was.  It's grown by leaps and bounds since then, and many locals wax nostalgic for the good-old-days.  That's human nature I suppose, but if I'm honest, I'm glad for many of the changes brought about by that growth.  More year-round residents has meant an explosion of cultural opportunities, a state-of-the-art library, stronger faith communities, a surge in the numbers and supporters of local non-profits, a world-class trail system, new athletic facilities, and a hospital.
When Tom and I were starting a family in the mid 90's a few more traffic lights had popped-up by then, but we didn't have many healthcare options in the county.  Very limited information or support was available for me after my babies were born.  Fortunately I did find a couple people who turned out to be invaluable.
I'm thinking of a young, energetic chiropractor named Christine Phillips whose vision was to grow a practice that eventually focused solely on maternity patients.  Our Alice was her first baby patient!  Dr. Christine provided important medical care, advice and referrals for me for years.  And I will be forever grateful for the wise and passionate Park City La Leche League leader, Bobbi Fosburg.  Her breastfeeding/child rearing info and weekly meetings were a lifeline.  It would have been nice to have had access to more holistic resources, but the community of young mothers at La Leche League became good at supporting each other through tough things as they arose.
I've often wondered what my experience would have been minus those connections.  One can feel alone in the wilderness during the early days of motherhood, especially if you have left family and friends to live in Park City.  That's why I am excited to learn of an alliance of female practitioners forming a community of care for women during the pre and postnatal stage of life!
The Mothers and Healthcare Practitioners Partnership (MAHPP) is a collaboration of experienced professionals dedicated to making pregnancy and recovery an informed,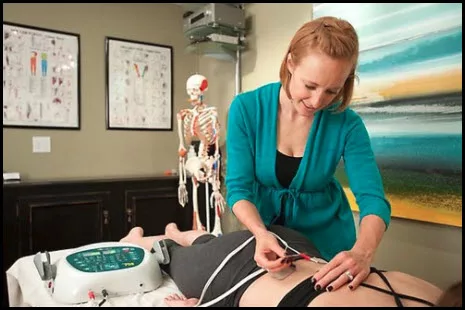 healthy and comfortable experience through a variety of wellness services. I recently spoke with MAHPP – pronounced 'map', founder and director, Joanna Kahn, MPT, CSCS (pictured left).  Joanna has a masters degree in physical therapy and is a Certified Strength and Conditioning Specialist.  She has her own physical therapy practice at the corner of Park Ave and Ironhorse Drive, Personal PT Park City.  When asked what inspired her to form MAHPP she said her upbringing really came into play.
"I come from a family that is very community-oriented.  I find myself drawn to things that are collaborative rather than competitive.  Community is an important aspect [of this alliance] and fortunately Park City is a small enough town to get something like this off the ground…We have a wonderful standard of care in the U.S. but there is so much more that can be done for women, and the largest gap is the time after the baby is born.  Support for mothers shouldn't end after the first weeks postpartum.  I wish I had known what was available after I had my baby.  MAHPP is the answer to that."
MAHPP is described as "your 'map' to pre and post natal health".  This is how it works. Each of the practitioners that make up MAHPP has a unique skill-set.  As a group they share a foundational belief in a whole body approach.  Joanna and her MAHPP colleagues devote time and attention to learning about each other's modalities and what types of issues they best address.  The collaborative model allows them to refer appropriately, and thus offer the maximum level of care to their clients/patients.  This benefit can not be overstated.  There are a whole host of physical and emotional issues that can arise during pregnancy or postpartum.  Women very often are either unaware of certain practices or treatments that could address their issue, or they have to figure out who to see on their own.  And with each new practitioner they end up having to repeat their whole history.  From the MAHPP website:
Relieve yourself of the pressure of knowing it all.  MAHPP ("Map") is an alliance of practitioners
dedicated to making your pregnancy and recovery a healthy one.
We want to make this important time easier for moms.  MAHPP provides services tailored to you.
Choose the most important pieces to the puzzle and we will do the rest.
physical therapy      pilates
massage        yoga    chiropractic
acupuncture      postural analysis    nutrition 
MAHPP offers treatment packages (4,6,8 treatments) for people to buy services at a discounted rate.  Almost a year old now the group has recently launched a monthly educator series.  Physical therapist, Heather DeFord kicked off the series in September with a talk about the Mayan technique of abdominal massage therapy and the pelvic floor, self-care for improving fertility, decrease PMS, and enhance digestion.  October's topic was titled Pain Free Posture and Pregnancy and was led by Park City's well-known postural specialist, Kyra Wong.  The educator series is attended by the MAHPP practitioners. It is open to any practitioners and to the the public.  Talks are designed to be short and to the point (about 45 minutes) to accommodate people's busy schedules.  The group is planning the next talk for early December.  To find out about the monthly presentations go to the groups Facebook page and "like it".
I must say these practitioners are the cream of the crop!  Many of them are mothers of young children.  And all of them bring to their practices a personal passion for empowering women through pregnancy and recovery.  This group wants all the moms in our community to be at their best!  Please let those you care about know about this valuable community resource! One of the treatment packages would make a GREAT shower or holiday gift for someone to use pre and post natally.
MAHPP PRACTITIONERS
Brooke Benton, Rebecca Brenner, Sarah Caldwell, Heather DeFord, Joanna Kahn, Melissa Krajeski
Lindsey Marshall, Maile McKain, Christine Phillips, Kyra Wong, Align Spa
For information on the practitioners, services, educator series or available packages, visit the MAHPP website at MAHPP.com, or call Joanna at 802-598-6884.
Want to see more stories like this about local individuals, groups or businesses?
Sign up to receive Real Parkspective stories in our quarterly newsletter.
Have an idea for a story? Call 435-640-2470.
If you are thinking of buying or selling real estate or know anyone who is, we would love to apply for the job!