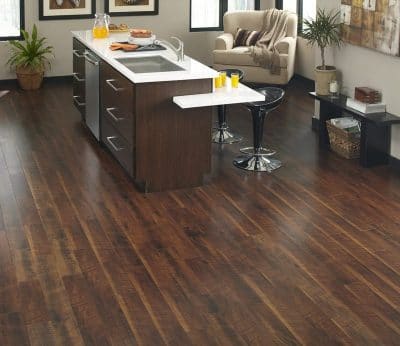 The International Builders Show was last month in Orlando, Florida.  The show is sponsored by the National Association of Home Builder's (NAHB), and attracts building industry professionals from around the globe.  Attendees were tasked with taking in over two dozen football fields' worth of building manufacturers' wares.  A product article I read boiled it down to a top 11 list, but I was most excited about a flooring product that the NAHB expects will really start trending by the spring.  It's called Luxury Vinyl Planks (LVP).
As a broker I go into a lot of homes. I see a surprising number of laminate floors.  Granted they have definitely improved over the years.  They tend to be less "clicky" underfoot and are looking more like real wood.  (Heck, even formica's come a long way, baby.)  But you can certainly tell it's not hardwood.  People opt for laminate for practical reasons.  It's a very good cost alternative, especially for dog lovers seeking a scratch resistant material.  But now there's an attractive alternative to the alternative that's definitely worth considering, especially since recent technology has really upped its game.  Luxury vinyl plank flooring is quickly becoming the new alternative to premium hardwood floors, and a more attractive option over cheaper looking laminates.

Welcome to the wonderful world of "Smart Flooring".  Luxury vinyl planks create a beautiful and resilient, durable floor that stands up to real life.  It's an exciting alternative to hardwood flooring, or Pergo, the leader and most recognized brand of laminate flooring.  Luxury vinyl planks are individual planks of vinyl as opposed to sheets.  It's often mistaken for real hardwood because it looks and feels so real.  Some people in the flooring world claim it looks even better!  Be clear there are different grades of luxury vinyl and price points.  The highest grade and fastest growing segment of the market is known as an Engineered Vinyl Plank (EVP).  Coretec Plus, made by US Floors pioneered this segment of the market in 2012.
Advantages of Engineered Vinyl Planks
1     Looks and Feels Real
Luxury vinyl planks have a highly realistic look and the feel of hardwood.  High end vinyl planks are individual pieces with beveled edges and real texture and graining, so they look real (unlikely sheet vinyl or cheaper vinyls or laminate which has simulated graphics).  The planks are installed in a randomized way so they also look more like real hardwood. 
2     Comfort and Warmth
Engineered vinyl planks are about 8mm thick and are constructed in layers – with the top being vinyl; the middle a strong, highly dense fiber board core; followed by an attached under layer that provides more cushioning, insulation and sound-proofing.  As a result EVP have great warmth and texture underfoot and because of the construction they sound like wood floors.
3     Water Proof
You can have a high-end look and not have to worry about water.   The high quality luxury vinyl planks are waterproof.  EVPs are perfect for spaces that have water or may have moisture such as kitchens, bathrooms, mudrooms, basements and laundry areas.
4     Easy to Install/Maintain
Flexibility is the name of the game with luxury vinyl planks.  The floating, click-able floor is practically indestructible and can be installed at any point during construction.  It can even be installed easily over existing floors.  It does not require any time for acclimation.  The planks fits easily around already installed cabinetry.  Vendors provide matching moldings and quarter-round to hold the floor firmly in place.  The system requires less adhesive and does not call for heat guns, seam tape or power stretchers.  Exceptionally durable, with superior scuff and wear resistance it requires no refinishing.  It's more scratch resistant than hardwood, but less than laminate.  Planks are easily removed and replaced if you do experience scratching.  So save those extra planks! 

5     Saves Money
LVPs are a great budget-sensitive option.  The glue-down product is the least expensive.  The floating floor product (EVP) is more expensive than laminates and more affordable than  hardwood. 
6     Wide Selection of Styles/Colors
With a few different plank sizes and color choices in categories of darks, greys, lights, mediums and multi-tonal there are plenty of stylish options. 
The rising popularity of luxury vinyl planks as an alternative to hard wood is similar to the uptick in quartz versus granite counter tops.  Quartz is a formidable countertop contender as it's a material that offers both beauty and practicality at a competitive price.  Whereas granite can stain or chip and requires periodic resealing, quartz is highly durable and does not need maintenance.  I predict the luxury vinyl product is going to move in and take over as the wood alternative and be even more popular than laminates.  Its practical qualities combined with a high quality aesthetic is its real strength and selling power.


Tom Ward, Realtor
CLA, CSA, CRS, e-Pro, GRI, SRS
---
 I have been a full-time agent with Jess Reid | Christie's International Real Estate since 1994 and am devoted to Park City's Neighborhood home sales.  I have a passion for the art and science of home resales and a track record for delivering "results that move you".  Don't hesitate to call or email me for information regarding the selling process.  It's never too early to start preparing for a sale!
[email protected] • 435-647-3727
pcneighborhoods.com/endorsements